Product Tanker in Improved UK Drydock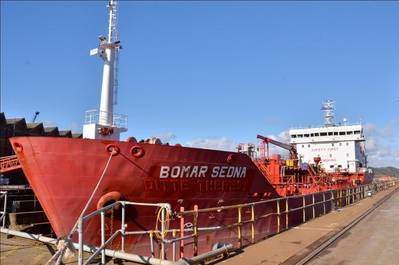 A&P Falmouth's modified dry-dock No. 4 accommodates a Bernhard Schulte-owned product tanker for survey.
Bernhard Schulte's product tanker Bomar Senda (formerly Ditte Theresa) entered the newly modified drydock (which has a pit excavated to facilitate thruster and sonar removals) for its first special survey.
A&P Falmouth's No 4 dock is of length 172.50m, breadth at entrance 26.21m, with a newly-excavated pit 8.5m long x 6m wide x 2m deep, offset 1m to the east.
A&P Group operate seven dry docks across three strategic locations in the UK. All facilities combine a rich heritage of marine engineering skills and experience, providing ship owners and energy companies with all the precision skills needed to complete the most demanding projects. A leading UK Engineering Services and Fabrication Group providing tailor-made solutions for customers in the global Marine and Energy Sectors, the company was originally founded as a centre of expertise in ship design and construction in 1971 and remains 100% privately owned.