Guam Port Improvement Project Completed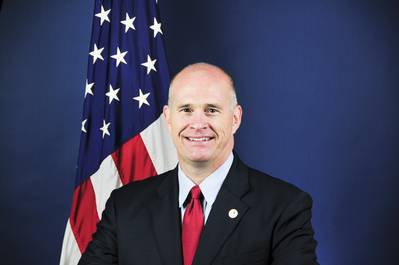 The $50 million Guam Commercial Port Improvement Project, administered by the U.S. Department of Transportation's Maritime Administration (MARAD) on behalf of the Department of Defense (DOD), has been completed, transforming Guam's strategic commercial sea port into a world-class facility ready to meet the demands of the future, MARAD announced today.
"As Guam's only commercial port, these facilities are key to unlocking a more prosperous future for the people of the territory – and the whole of the Western Pacific Region," said U.S. Transportation
Secretary Anthony Foxx
.
U.S. Maritime Administrator Paul "Chip" Jaenichen joined Congresswoman Madeleine Z. Bordallo, Governor Eddie Baza Calvo and other local officials for the ribbon-cutting ceremony.
"This port will establish Guam as the preeminent regional hub for waterborne commerce, transit and defense," Jaenichen said.
The Port of Guam, originally constructed in the 1950s by the U.S. Navy, and transferred to the government of Guam in the 1960s, has remained largely unchanged since construction. Since the port is a vital asset to the economy of Guam and to the national security of the United States, modernization was needed to improve facilities and relieve port congestion.
Completed on time and under budget, the upgraded port now has 4.6 acres added to its container yard, providing the facility with an increased capacity for stacking and storing ship containers. The port also has an improved gate area, which will increase the efficiency and speed of cargo moving through the port. In addition, the port break bulk yard has been expanded by 10 acres, which will allow greater capacity of cargo. Infrastructure improvements completed on the Electrical Load Center at the port will now provide access to
electricity
in the event of a power outage.
Port of Guam Improvement Enterprise Program was created to provide for the planning, design and construction of projects for the Port of Guam to increase capacity, relieve port congestion and provide greater access to port facilities. Under the program, MARAD provides federal oversight and coordination of the port upgrades funded by Federal and non-Federal entities. The FY 2010 Supplemental Appropriations Act authorized DOD to provide $50 million to finance the port improvements.