Imtech Onboard the Rainbow Warrior III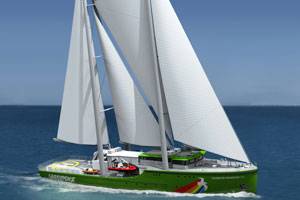 Imtech Marine Group (global technical services provider) has been commissioned to supply the entire "green" technical infrastructure on board Greenpeace's new flagship Rainbow Warrior III. Together with a large number of other initiatives, this project serves as proof of the present development in "green" ships.

The Rainbow Warrior III (almost 190-ft in length) is the successor of the present Greenpeace flagship Rainbow Warrior II. Greenpeace wants its new flagship to be the ultimate example of sustainability. The ship therefore has a "green" design, is constructed from environmentally friendly materials, is equipped with "green" technology and is characterized by the recycling of energy and water. The design is based on an extensive sustainability study. Preliminary tests were carried out at the Delft University of Technology and in a wind tunnel operated by Wolfson Unit Southampton.

The Rainbow Warrior III will be fully equipped with sails. Imtech Marine Group will be handling the engineering and a number of green technical solutions, including the energy-efficient electrical propulsion, which results in considerable energy savings and substantially lower carbon emissions compared to a conventional propulsion system. This technology will only be used when there is not enough wind to sail. The emitted residual heat will be used to heat the water system. The intelligent integration of all electrical and electronic systems on board allows for additional energy savings. An important role has been assigned to the sustainable platform automation and the intelligent energy distribution system, which will be installed by Imtech. In addition, Imtech will provide the ship, which has been fitted with a helicopter platform, a conference room for 50 people and a campaign office, with the most up-to-date navigation and communications technology.

In other projects in the U.S., Imtech Marine Group is involved in the engineering of an ecological tour boat that sails on a combination of solar energy and sustainable electric propulsion. Together with Feadship and MTU, Imtech is working on a study of the options to realize "green" luxury (mega) yachts. This study is supported by SenterNovem (an agency of the Dutch Ministry of Economic Affairs specializing in sustainability and innovation) and the Dutch research institutes TNO and MARIN. And finally, Imtech is responsible for the engineering and implementation of the electric propulsion on board the futuristic solar cell vessel Solar Planet. On board this ship, one finds thousands of photovoltaic cells that convert sunlight directly into electricity, which is used to drive a quiet and clean electric engine that handles propulsion. In 2010, this ship will be used to make the first voyage around the world powered by solar energy.