Vast New Middle East Port Complex Inaugurated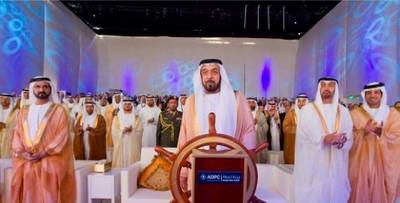 United Arab Emirates President His Highness Sheikh Khalifa bin Zayed Al Nahyan formally inaugurates US$ 7.2-billion Khalifa Port.
The completion of the first phase of the new port will give it the capacity to handle 50,000 containers a week and one million tons of cargo every month. Yet all freight movements are controlled by just a small team of skilled operatives based in a state-of-the-art control centre, setting a new global benchmark in port technology.

The UAE's diversification of its economy away from dependence on oil was given a huge boost by the inauguration, which serves to kick start global awareness of Kizad, the vast new industrial zone adjacent to Khalifa Port.

Within a generation, Khalifa Port and Kizad are set to account for up to 15 percent of Abu Dhabi's non-oil GDP, creating hundreds of new jobs and critical skills aligned to the Emirate's future economic plans.

Khalifa Port and Kizad provides access to two billion people within four time zones, three international airports within a 90-minute drive, purpose built express highways and a direct rail link planned for 2016. Khalifa Port container terminal, operated by Abu Dhabi Terminals, has established a network with over 40 destinations worldwide.

President His Highness Sheikh Khalifa bin Zayed Al Nahyan expressed his pride at the completion of projects that are of benefit to the citizens of the homeland and that strengthen the national economy.

He also said that the country provides the necessary support for the maritime transport industry, particularly Khalifa Port, which, when its phases of construction have been completed, will become one of the most important ports for trade in the region and the Middle East, benefiting from the UAE's strategic location to act as a link between the economic regions of the world.