Incat, Austal Choose MAN for Ferries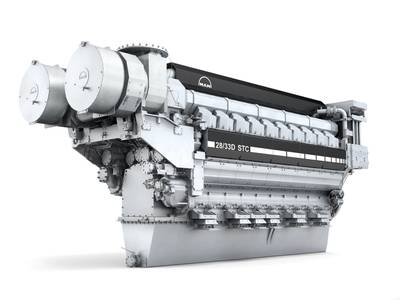 Incat and Austal ferries to maintain Trinidad and Tobago seabridge Prominent Australian shipbuilders, Austal and Incat Tasmania, have ordered a total of eight MAN 16V28/33D STC engines in connection with the decision of the Government of the Republic of Trinidad & Tobago to build one fast ferry at each yard.
Each vessel will be powered by 4 × MAN 16V28/33D STC units to provide highspeed passenger and vehicle operations on the seabridge between the islands of Trinidad and Tobago. At full speed, each engine will provide 7280 kW.
The Austal vessel will be 94 meters long and designed to carry 926 passengers and 250 cars at speeds of 37.5 knots. The ship will be built in Austal's new shipyard in Vung Tau, Vietnam.
Incat's 100-meter wave-piercing catamaran will be a new fast passenger/cargo ferry with the capacity for 1,000 persons and will carry 239 cars or a combination of trucks and cars with a service speed of 39.5 knots. Incat will build the vessel at its shipyard in Tasmania, Australia.
MAN Energy Solutions has further announced that its after-sales division, MAN PrimeServ, will open a hub in Trinidad & Tobago to best support the operator.