Fishing Indirectly Impacts Coral Reefs Finds New Report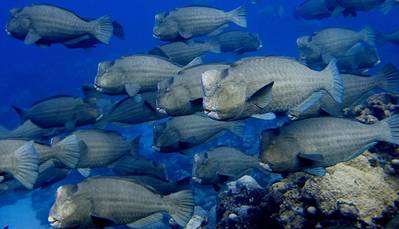 In the first global assessment of its kind, a science team led by researchers at Scripps Institution of Oceanography at UC San Diego has produced a landmark report on the impact of fishing on a group of fish known to protect the health of coral reefs. The report, published in the journal 'Proceedings of the Royal Society B (Biological Sciences)', offers key data for setting management and conservation targets to protect and preserve fragile coral reefs.
Beyond their natural beauty and tourist-attraction qualities, coral reefs offer economic value estimated at billions of dollars for societies around the world. Scripps Master's student Clinton Edwards, his advisor Jennifer Smith, and their colleagues at the Center for Marine Biodiversity and Conservation at Scripps, along with scientists from several international institutions, have pieced together the first global synthesis on the state of plant-eating fish at coral reef sites around the world.
These herbivorous fish populations are vital to coral reef health due to their role in consuming seaweed, making them known informally as the "lawnmowers" of the reef. Without the lawnmowers, seaweeds can overgrow and out-compete corals, drastically affecting the reef ecosystem.

Among their findings, the researchers found that populations of plant-eating fish declined by more than half in areas that were fished compared with unfished sites.

The researchers also found that fishing alters the entire structure of the herbivore fish community, reducing the numbers of large-bodied feeding groups such as "grazers" and "excavators" while boosting numbers of smaller species such as algae-farming territorial damselfishes that enhance damaging algae growth.

The authors argue that such evidence from their assessment should be used in coral reef management and conservation, offering regional managers data to show whether key herbivores are fished down too low and when they've successfully recovered in marine protected areas.

Source: Scripps Institution of Oceanography at UC San Diego