New Industrial Coupling Catalog Available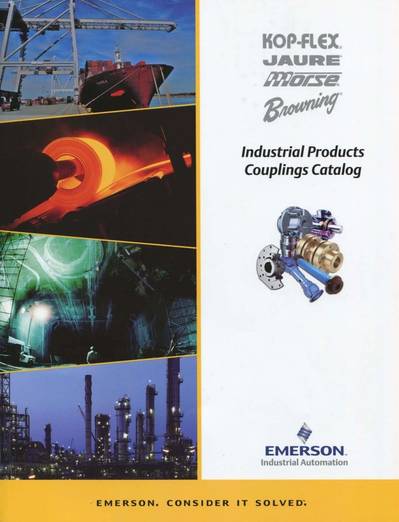 Power Transmission Solutions, a business unit of Emerson Industrial Automation, introduces its new consolidated 300-page industrial coupling catalog covering Kop-Flex, Jaure, Morse and Browning products in bore sizes up to 43.5 inches, and torque ratings up to 329,000,000 lbs-in.
The wide variety of designs covers a multitude of industries, such as steel, aluminum, pulp and paper, and mining, as well as turbomachinery. Applications include rolling mills, crushers, pumps, fans, steam turbines, elevators, machine tools and hoists to name a few. Styles include the simplest rigid and sleeve units to multiple types of disc, gear, chain, elastomeric, barrel, U-joint, shear-pin and tapered grid couplings. Resilient designs offer shock absorption and overload protection and various units are engineered for high levels of angular/axial offset, misalignment, and shaft separation. Custom units, such as flexible coupling drive shafts, are illustrated and described. Various units meet API 610, ISO 13709 and AGMA 11 specs. Service center programs, such as repair, inventory and maintenance management are explained as well.
An interactive page-flip version of the catalog is online at www.emersononlinecatalog.com. Printed copies can be ordered at http://www.emerson-ept.com.