MHI Industrial Exhibition to Re-open Soon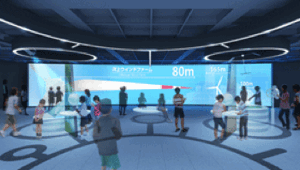 Mitsubishi Minatomirai Industrial Museum gives an introduction to diverse power generation methods.

The Environment/Energy Zone of the Mitsubishi Minatomirai Industrial Museum, established by Mitsubishi Heavy Industries, Ltd. (MHI) in Yokohama in 1994, will reopen following a complete renovation of its exhibits. Organized under the theme of "energy diversity," the newly refurbished zone will feature actual exhibits, scale models and video presentations introducing MHI's various power generation methods.
Visitors will be introduced to the company's energy-efficient and environment-friendly technologies, state-of-the-art examples of how renewable energy resources are being used, an overview of the global energy picture, and explanations of how the world's energy resources are distributed. In its revamped format, the new Environment/Energy Zone will give both adults and children an enjoyable and easy-to-understand introduction to the various technologies.
The new Environment/Energy Zone will be equipped with a large-size screen measuring 14m across and 2.5m high that will dynamically present the zone's advanced technologies. Among its features will be photographs and computer graphics showing MHI's highly efficient gas turbines, wind turbine blades 80m long installed at offshore wind farms, etc.
The Museum uses actual machinery and equipment, scale models, video presentations and explanatory panels to present easy-to-understand introductions to MHI's state-of-the-art scientific technologies and products.