Cruise Industry Poised for Global Growth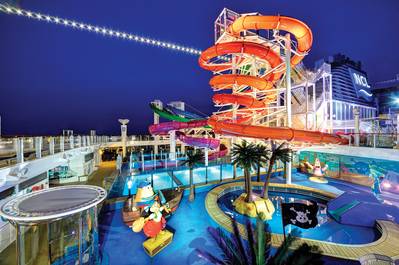 The global cruise industry and its fleet of increasingly large, ultra-modern ships is projected to continue its steady growth in 2014, powered by growth overseas, particularly in the German market, as well as the adoption of faster, stronger and generally better satellite communication technology that is moving toward the level of seamless, cost-effective communication connections that can be expected at a land-based vacation destination.
The Cruise Lines International Association (CLIA), the trade association representing the $32 billion global cruise industry, projects that 21.7 million people will take a cruise in 2014, up slightly from the 21.3 million that were estimated to take a cruise in 2013. CLIA is comprised of 63 cruise line members representing more than 95% of global cruise capacity.
The CLIA global fleet comprises 410 ships (including river cruise member vessels) with a cumulative 467,629 beds. The CLIA fleet will add 29 new ships with a capacity of more than 34,000 passengers in 2013 / 2014, with an additional 20 ships and 52,000 beds slated to come online between 2015-2018.
While the U.S. maintains its strong global hold on market share, with an estimated 51.7% of all cruise passengers coming from the U.S., there are strong pockets of growth internationally, with Germany (7.7% total) driving strong demand in Europe. Current projections forecast Germany overtaking the U.K. and Ireland (8.1%) as the world's second largest cruise market.

Technology Onboard
While innovative ship designers and builders continue to conceive and bring to life increasingly sophisticated ships to attract and retain a broadening cruise demographic, according to Jim Berra, Chief Marketing Officer, Carnival Cruise Lines and Chair, CLIA Marketing Committee, better, cheaper satellite communication capability is the defining technology trend on cruise ships today.
"There are some emerging technologies that could open up significantly more bandwidth," said Berra. "One of these is what is called Low Orbital Satellites. That will allow you to flood a ship with far more bandwidth. I think as that technology proves out and becomes more prevalent, that type of satellite bandwidth will allow for the types of speeds you need to watch streaming movies. As that satellite technology unfolds, that could be a tipping point."
Early in 2013 O3b Networks signed a second, multiyear deal with Royal Caribbean Cruises Ltd. to provide high-speed satellite-delivered broadband service aboard Allure of the Seas, which enabled more than 8,000 guests, staff and crew to connect at fiber-like speeds at sea. Royal Caribbean was the first to enlist O3b's new maritime offering O3bMaritime aboard, and Allure of the Seas' sister ship, Oasis of the Seas, first signed for the services in the summer of 2012.
While the new low orbit technology holds plenty of promise, existing technology still holds a firm spot onboard cruise ships. "In the current satellite deployment (Ka and Ku band) that bandwidth is becoming more prevalent and less expensive so you're seeing cruise lines starting to buy more bandwidth, which will create a better experience for guests. If low orbital takes off and really becomes viable, that could be the tipping point for having 'land-like levels' of bandwidth at sea," said Berra.
While advanced communication technology is a visible upgrade to cruise passengers, a bigger investment in cruise ship technology upgrade falls well below the consciousness of the everyday cruise passenger: emissions reduction technology driven by the North American Emission Control Area (ECA).
"I don't think the cruise industry is frightened as much as the cruise industry is frustrated that we've got the ECA," said Christine Duffy, President & CEO, CLIA, in response to a question at CLIA 'State of the Industry' press conference. "While there is emerging technology and significant investment being made by the cruise industry to determine how they will reduce emissions, we are in some ways playing catch up." Carnival's Berra, however, said that there is positive movement. "During the last year and a half the progression of (emissions) technology has moved quite quickly," said Berra. "We're at a place now where we are pretty confident in the technology, and we're in the process of implementing it across a number of ships."

The Ships
While the focus on the consumer marketing end of the cruise industry is squarely on the experience and multitude of specialty entertainment options, the continued design and construction of new ships and the major modification to existing fleet is a continued reality to serve this growing market, as new ships more so than any other factor help the cruise lines to create buzz.
New ships for 2014 include:

NCLs Norwegian Getaway
The 145,655-gt Norwegian Getaway was built by Meyer Werft in Papenburg, Germany, and offers a host of novel entertainment options, including an magic-inspired "Illusionarium," a Grammy Museum and a theater showcasing the Broadway musical "Legally Blonde." It also offers a three-story sports complex with two swimming pools, five waterslides, a ropes course and a zip wire. In late January/Early February 2014, the ship was docked in New York for five days to add hotel room capacity for the Super Bowl, taken over by Anheuser-Busch InBev and transformed into the Bud Light Hotel.

Royal Caribbean's Quantum of the Seas
Quantum of the Seas is being built in German at Meyer Weft, capable to carry 4,180 passengers and scheduled for launch in November 2014. It is highly anticipated as it is Royal Caribbean's new class of ship, and it pulled out all the stops to ensure the vessel is an industry game-changer, with a number of 'firsts' at sea, including: RipCord by iFLY, a first skydiving experience at sea; North Star, which is a jewel-shaped glass capsule on a robotic arm which transports passengers off the ship and over the sea more than 300 ft. above the ocean; and Virtual Balconies for interior staterooms.

Princess Cruises' Regal Princess
Being built at the Fincantieri Shipyard in Monfalcone, Italy, Regal Princess will carry 3,560 passengers and is scheduled for launch in May 2014. Royal Princess' sister ship, the Regal Princess, features a glass-bottom sea walk, an expanded atrium with additional entertainment and casual dining options, and Princess Cruises' largest-ever deck pool, replete with nightly water and light shows and a screen for first-run movies. Additional features include poolside cabanas, live TV studios, spas, theaters, a casino and a special chef's table dining experience.

Costa Cruises' Costa Diadema
Costa Diadema is a 132,500-gt, and 1,862 guest cabins, 3,724 passenger ship scheduled for launch in October 2014. Costa Diadema will be the largest-ever ship to fly the Italian flag when she sets sail in October. Diadema, literally means "tiara" in Italian and Costa has called the ship "the brightest jewel" in its 15-strong fleet, and it promises "majestic and refined elegance," flavors from around the world and the one of the most-spectacular spas at sea. Other features include split-level rooms, an outdoor promenade to "connect" passengers with the sea, and an extensive kids club.

TUI Cruises' Mein Schiff 3
The 2,500-passenger Mein Schiff 3 is scheduled for launch in the sprint of 2014, and is the first-ever new build for TUI Cruises, a joint venture between Royal Caribbean and Germany's TUI AG. It will target the German-speaking market.
(As published in the February 2014 edition of Maritime Reporter & Engineering News - www.marinelink.com)