Eco Marine Power Update Investor Information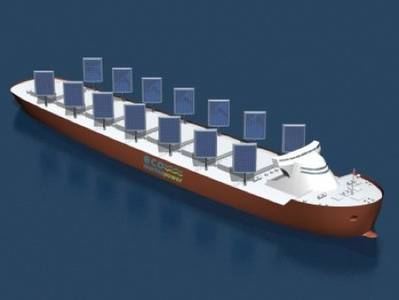 Eco Marine Power (EMP) invites investment in its wind power & solar energy system for ocean going ships, called the Aquarius MRE System.

EMP is a marine systems technology company that offers investors the opportunity to help drive forward cutting-edge projects focused on developing green & renewable energy technologies for world shipping that will have a global impact.

The company is currently developing a wind power and solar energy system for ocean going ships called the Aquarius MRE System . This innovative system will allow ships to utilise wind power and solar energy via an integrated system of rigid but movable sails (based on EMP's EnergySail technology) which will reduce fuel consumption and lower noxious gas emissions. The Aquarius MRE System (Patent Pending) will herald in a new era of sustainable shipping and reduce operation costs for shipping lines.

EMP is also working on the development of a number of solar-electric hybrid propulsion & marine hybrid power design concepts for smaller ships. (below 500 tonnes) Some of these concepts incorporate features from Aquarius MRE System but also include new ideas that will help make green marine technology more cost effective and suitable for a wide range of vessels.

Eco Marine Power is a design focused company and does not plan to build ships,vessels or boats or manufacture marine equipment itself. Those roles and functions will be carried out by strategic partners thereby leaving EMP to focus on developing new concepts and design ideas.
The company was formed in July 2010 and is based in Fukuoka, Japan.

The company offer investors an opportunity to become part of the development of a cutting edge technology that will help lower carbon emissions, fossil fuel consumption and noxious (NOx/SOx) gas emissions on a global level.