FMC Honors Crowley for Green Initiatives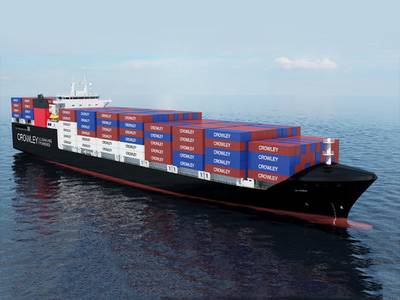 Crowley Maritime Corp. has been honored with the 2015 Federal Maritime Commission (FMC) Chairman's Earth Day Award in recognition of the organization's companywide environmental stewardship initiatives.
The announcement was made during a Professional Environmental Management Association luncheon held in Seal Beach, Calif., earlier this week. FMC Chairman
Mario Cordero will
present a plaque commemorating the award to Crowley during a future recognition ceremony in Washington D.C.
"Crowley has been chosen for its broad commitment to active environmental efforts across their lines of business and throughout the company," Cordero said. "Crowley's efforts include: ordering two new LNG powered ships built in Pascagoula, Miss.; participation in the spill protection program of the State of Washington, Department of Ecology; and its membership in the Trident Alliance, a coalition of shipowners advocating robust enforcement of fuel sulfur restrictions."
The FMC Chairman's Earth Day Award is given annually and highlights technologies, programs or practices of the maritime transportation industry that, through efficiency or innovation, benefit the environment. The award also looks to emphasize efforts that provide a reduction in environmental harm, emissions or pollutants, and increase the public's awareness of the maritime transportation industry's hard work to protect the environment.
"Crowley companies place the highest priority on individual safety, security, prevention of pollution and customer satisfaction," said the company's Charlie Nalen, vice president, SSQE. "We understand how our jobs may impact the environment and also what we can do to minimize those impacts. Taking the initiative to reduce negative impact not only helps the environment, but also is in the best interest of our customers, the communities in which we work and our employees."