Bering Sea Deal a First for Inmarsat Fleet Xpress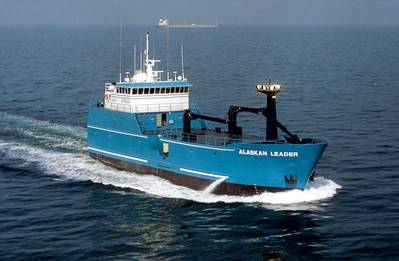 Inmarsat announced that its partner Network Innovations (NI), together with Fusion Marine Technology, have signed a contract with Alaskan Leader Fisheries to install Fleet Xpress, Inmarsat's new high-speed broadband maritime communications service, powered by Global Xpress (GX).
The contract marks the first commission of Fleet Xpress in the remote and hostile waters of the Bering Sea.

Fleet Xpress sets a new standard in broadband maritime communications, delivering the highest levels of reliable high speed broadband connectivity and exceptional performance across all of the world's oceans as well as facilitating innovative Connected Ship applications.

Alaskan Leader Fisheries is an Alaskan based commercial fishing company, specializing in the harvesting, processing and marketing of Alaskan seafood. Alaskan Leader Fisheries have chosen Fleet Xpress to support their daily business operations.
With Fleet Xpress, Alaskan Leader Fisheries shore based sales teams can maximize their sales potential with up to date information on catch qualities and weights, while also sharing and recording geographical catch areas for more targeted sustainable fishing methods. Fleet Xpress is also intended to support the company's crew welfare initiatives to provide its seafarers with a vital communication link to friends and family, and access to the Internet to alleviate the boredom on the long voyages at sea.

The install was led by NI partner Fusion Marine Technology and includes a Cobham 100GX 1-meter VSAT antenna, which together with a FleetBroadband antenna and below deck unit, form the hardware needed to operate the service. The antenna manufactured by hardware partner Cobham, has been built to withstand the toughest weather conditions and provide stable connectivity regardless of weather and location.
"Fleet Xpress is a game changer for satellite communications at sea. The new service opens up a new level of connectivity for fisheries to take advantage of real-time communication back to shore, to enhance operational performance, maximize catch potential and start selling even before they have completed their journey back to shore", commented Gerbrand Schalkwijk, Inmarsat Maritime Chief Sales Officer. 'Through our partnership with NI, we are excited that Alaskan Leader Fisheries will be using Fleet Xpress in such hostile waters and to continue to drive innovation in sustainable fishing with highly targeted fishing methods."
With the continued success of the first vessel, Alaskan Leader Fisheries will look to install Fleet Xpress across their entire fleet of vessels.