Inmarsat Selected SatCom Provider for Next Volvo Ocean Race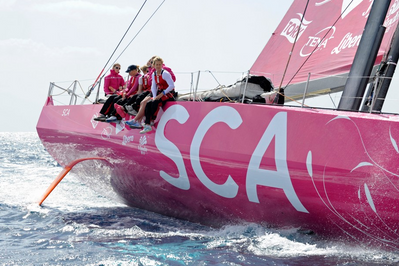 Inmarsat has been selected as official Satellite Communications Partner of the Volvo Ocean Race 2014-15, providing global communications for the fourth consecutive edition.
The 2014-15 marathon will be the most digitally connected around-the-world race in history, featuring the first purpose-built, one-design racing boat geared to deliver 24/7 satellite communications to an audience of tens of millions.

Inmarsat's award-winning I-4 global satellite network will be responsible for delivering safety services, vessel tracking capabilities, audio and video communications, and access to social media during the nine-month, round-the-world competition.

Onboard Reporter

Each of the eight competing yachts will have a trained Onboard Reporter (OBR), who will be responsible for delivering multiple hours of broadcast and digital content during the course of the race.

"Inmarsat performed flawlessly over the last three editions and we are sure they will do so again with a boat which has been purpose-built with communications very much in mind," said Knut Frostad, Chief Executive Officer of the Volvo Ocean Race.
"We look forward to Inmarsat making this the most watched and most connected yacht race in the world – aimed at a new online audience of people who simply love the kind of life-at-the-extreme excitement we serve up day in, day out." 



One design

For the 2014-15 edition, Inmarsat will supply the network and satellite services for the FleetBroadband 500 (FB500), FleetBroadband 250 (FB 250) and Inmarsat C safety services and tracking devices on board the new one-design Volvo Ocean 65 race yachts.

FleetBroadband 500, Inmarsat's flagship maritime service, delivers an always-on connection of up to 432kbps for applications such as email, internet access, real-time electronic charts and weather reporting and also features Streaming IP with guaranteed connection rates of up to 256kbps available on demand, for live applications such as high definition video streaming.



Technically advanced

"The Volvo Ocean Race is the fastest, toughest and most technically advanced around-the-world yacht race," said Inmarsat's Chief Executive Officer, Rupert Pearce.

"This is why the race organisers needed to ensure that the event was supported by the most advanced and reliable satellite communications available. 

"The Volvo Ocean Race is not just one of the world's most exciting adventures but the perfect testbed to showcase the capabilities of Inmarsat's global network to power voice and data connectivity from the most remote and inhospitable locations on Earth."

Satellite phone
I
In addition to Inmarsat C safety services and tracking, each of the race yachts will carry an IsatPhone Pro satellite phone in their liferaft packs.

On shore, support teams will be equipped with Inmarsat's BGAN terminals, enabling them to set up a full broadband communications suite at every port the race visits.