Stevens to Host 2013 Innovation Expo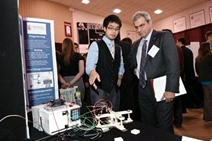 Stevens Institute of Technology will host its 2013 Innovation Expo on April 24, 2013, allowing the public a peek at innovative technologies, products and services developed by students and faculty throughout the year, and introducing a new lecture series on business and entrepreneurship. The event will feature keynote lecture by Globecomm CEO, a student business pitch competition, spotlight on Financial Systems Center, and innovation projects by students and faculty

The Stevens Innovation Expo is an annual, one-day, campus-wide event which displays the extensive research and innovation accomplishments of faculty and students.

From mobile apps to solar houses to financial software to biomedical products, more than 120 multidisciplinary teams of undergraduate students studying engineering, science, business, humanities and many other academic disciplines display capstone senior design projects, research posters and prototypes, which they complete in their final year of study, often with support from industry sponsors.
Students also compete in the Elevator Pitch and Project Plan competitions, selling novel business ideas to established entrepreneurs and active investors.

In addition, Stevens faculty members present poster presentations of their world class research in healthcare, defense, finance and more.

There will also be a special presentation highlighting research from the Financial Systems Center at Stevens, a state-of-the-art financial research and teaching facility that supports Stevens' graduate and undergraduate programs in Financial Engineering, Quantitative Finance, Software Engineering, Cybersecurity, Business and Technology and more. The FSC applies systems thinking to analyze and characterize the behavior of the complex global financial system.

"The hallmark of Stevens for 143 years has been technological innovation that solves real-world problems," said Stevens Provost George Korfiatis. "The annual Stevens Innovation Expo celebrates the breadth and depth of academic study at Stevens and the impact of Stevens research and education within industry and society."

The 2013 Innovation Expo also marks the launch of the Thomas H. Scholl Lecture on Entrepreneurship, which features notable visiting entrepreneurs and executives who have started successful businesses or improved the financial performance of existing companies.

At the Stevens Innovation Expo, inaugural keynote speaker David E. Hershberg MMS '68, founder, CEO and chairman of the satellite communications firm Globecomm Systems and a Stevens alumnus, will share his personal experiences as an accomplished entrepreneur and executive with the Stevens community. He will explain how and why he decided to start two companies in a field dominated by large corporations and discuss some basic lessons about core values, company culture, people management, and financial and legal issues learned over 50 successful years in the business.

The new lecture series, which will feature a number of events throughout the year, is supported by a gift from Stevens Board of Trustees Member Tom Scholl, General Partner at Novak Biddle Venture Partners and a highly successful high tech entrepreneur and investor.

The Stevens Innovation Expo takes place on April 24, 2013 from 10 a.m. to 4 p.m. on the Stevens campus in Hoboken, N.J.

For more information and to register, visit www.stevens.edu/expo.