Innovative Winch System Patented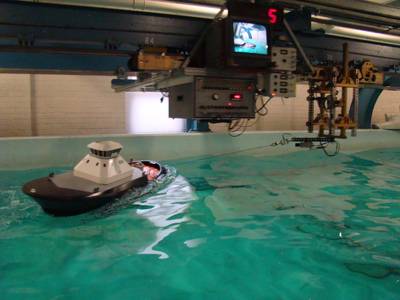 The U.S. Patent Office has issued Patent s/n 9,056,655 to inventors Brandon Durar (JonRie Marine Winches) and Gregory Castleman (Castleman Maritime) for A Staple Torque Aligning Winch System for Escort Tugs.

Naval architect Greg Castleman approached Durar in the winter of 2007 with the concept of a rotating fairlead for an escort winch which Durar presented the concept to rotate the winch and staple as a single unit.

After JonRie completed conceptual engineering it was defined that moving the pivot point during an escort will increase tanker turning forces thus reducing turning time to correct a tankers course and also reduce the tugs heal angle. JonRie contracted Capt. Ron Burchett (Burchett Marine) to help enhance the design and move forward with computer and model testing. Capt. Burchett had established two hulls to test a 33M ASD and a 39M VSP and two computer models were produced by the Glostens using the Tug Master Program for Tanker Escort. The data used and the results from the simulation proved conservative results that both tugs had increased tanker turning forces and reduced tug heal angle.

When the tug test models were completed they were taken to the Test Tanks at Stevens Institute of Technology, Hoboken, N.J. for two days of testing under the direction of Burchett Marine. After 158 test runs in all kinds of conditions (3- and 5-meter seas) it was determined that the tanker steering forces were as much as 35 percent greater with a rotating staple as opposed to a fixed staple. During testing it became apparent that the up lifting forces on the escort tugs made the tug more stable and the possibility of a capsizing the tug to be negated. It was also determined during testing that the side loading on the staple, winch, level wind and extreme loading on the rope were also negated.

The 39 M VSP was transported to Port Revel, France and model tested (conducted by Burchett Marine) using scale tankers and the lakes new Q MAX LNG tanker. The results proved a bollard pull of over 200 tons. Capt.Burchett refutes any concerns with the position rope in any given mode due the fact the rope is in line with the force.


This Escort System (Auto Position Escort Winch) becomes one with the tug with its ability to align the forces to create the maximum steering effort to assist a tanker in an emergency and to align the forces to safely increase righting forces during an Escort. With the increase in LNG exports around the world and the need for high speed Escorts this system provides the maximum solution. This system was also presented to the Panama Canal Commission and it appears to be the best solution for their new locks as they will be built without mooring mules.