Dive Inspection Continues on Lysblink Seaways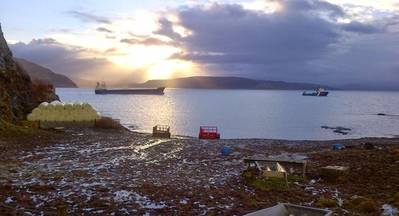 The dive inspection on behalf of the salvors will continue today on the cargo ship Lysblink Seaways that ran aground Wednesday near Ardnamurchan Point in the west Highlands, and is now anchored close to the location of the grounding, the U.K. Maritime and Coastguard Agency (MCA) reported.
The 120-meter-long vessel is stable, though still leaking a small amount of oil, after self-floating just before 9 last night from the foreshore at Kilchoan. Plans are in place to continue to use an absorbent boom to collect any dispersing oil.
Hugh Shaw, the Secretary of State's representative (SOSREP), said, "Anything that can be captured and removed to minimize damage to the environment, we will do."
There is still a lot of salvage work that needs to be done, MCA said, adding that as a matter of urgency the dive inspection needs to be completed so that the full condition of the vessel is known. Equipment is still being brought to the site for the salvors but it is not easy to get to making travel time longer.
MCA said weather is favorable for the work of the diving team today and it is hoped they will be able to complete the inspection.