Woolly Hat Week Inspires Knitting Frenzy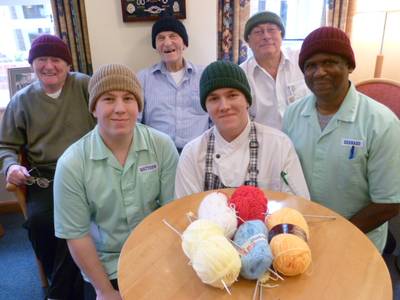 The Royal Alfred Seafarers' Society Supports Campaign to Help Sailors.

Sailors are renowned for spinning a good yarn, however on this occasion it is a volunteer at the land-locked Royal Alfred Seafarers' Society who has been getting busy with her knitting needles to make hats for mariners as part of Woolly Hat Week (6-13 Feb). Maureen Phillips has spearheaded a knitting frenzy at the care home, which provides dedicated accommodation and care to former seafarers, and has already produced 15 hats which will be given as gifts to sailors who arrive as strangers in ports all over the world.

Taking advantage of her previous experience as owner of a wool shop, Maureen has captained the team of five knitters in their campaign to 'knit one purl one'. Launched by the Sailors' Society which operates in over 100 ports across 30 countries, offering support through its network of Port Chaplains, the campaign offers a practical gift as well as helping seafarers to realise that someone is thinking about them and cares.

Commander Brian Boxall-Hunt OBE, Chief Executive of the Royal Alfred Seafarers' Society, said Woolly Hat Week is a fun campaign with a serious message. "Having come from a seafaring background and working with retired mariners every day we know the challenges sailors face and the often freezing conditions they have to work in, so we are pleased to be able to support the campaign. Sparks have been flying off our knitters' needles here at the Royal Alfred Seafarers' Society over the past few weeks so we're hoping to have a good number of home-made woolly hats to donate to this excellent cause."

The Sailors' Society is also encouraging non-knitters to get involved by making a donation which will help to provide assistance to seafarers in ports across the world, as well as going towards the transportation and distribution of the woolly hats.

The Merchant Navy has kept citizens in the UK fed, clothed and equipped for over 200 years, not to mention being a lynchpin of the economy. Today 95 per cent of Britain's imports and 75 per cent of exports still travels by sea. In addition to maritime defence of the nation and our interests worldwide, protecting the Merchant Navy, the Royal Navy also contributes to the stability, economic growth and development of the UK.
Despite this, awareness of this important industry is surprisingly lacking with a quarter of children believing the film character Captain Jack Sparrow to be Britain's most famous seaman while a third of adults did not know that the Merchant Navy transports cargo and passengers to and from the UK.*

"These figures show the importance of campaigns such as Woolly Hat Week for raising awareness of this important industry and the difficult circumstances our seafarers operate under. This is a fun campaign with a serious message that more needs to be done to support our sailors," said Boxall-Hunt. To find out more about Woolly Hat week, email woollyhats@sailors-society.org or call 023 8051 5950.