SeaRoc Charters 'MPI Adventure' for Windfarm Mast Installation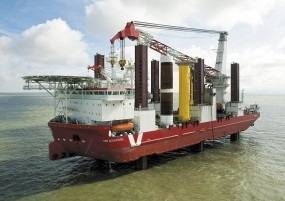 SeaRoc charter 'MPI Adventure' for Narec's offshore anemometry hub (NOAH) installation for windfarm site weather appraisal.

MPI Adventure is a dedicated vessel to transport, lift and install wind turbines and their foundations; delivered in March 2011 (Qidong, China) she is the second of MPI's three jack up vessels owned by MPI, part of the Vroon Group.

SeaRoc was recently awarded the contract to complete the mast installation, 3 nautical miles off the coast of Blyth, consisting of a 635t tripod foundation, 100t platform and 25t meteorological mast; on completion it will provide site wind speed measurements alongside the already installed ZephIR 300 wind lidar, supplied by sister company Zephir Ltd.

The platform will collect the necessary environmental data to inform the development, construction and operation of the proposed Blyth Offshore Wind Demonstration Site and will be equipped with a variety of monitoring sensors.

The project is managed by Turner & Townsend as part of Narec's overall programme portfolio, providing turnkey project management and full design services through the entire project lifecycle.

MPI Offshore Project Manager David Robinson added: "We very much look forward to working with SeaRoc on this challenging project which utilises Adventure to her full potential. She is one of very few vessels on the market capable of installing the 635t tripod in the water depths concerned and will as such be a great asset to the project."