Custom Cranes Installed Aboard Nigerian OSV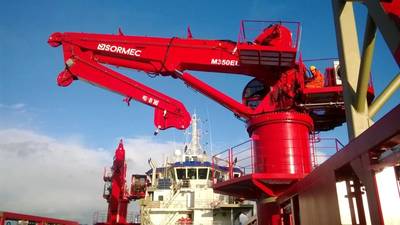 Italian manufacturer Sormec supplies specialist cranes to Nigerian OSV
Global offshore crane manufacturer Sormec has supplied matching cranes for a Dutch-built vessel operating in one of Nigeria's largest deepwater oil fields.
The Italian firm was tasked with manufacturing two M350/EL hydraulic elbow knuckle-boom marine cranes to be equipped aboard an offshore supply vessel (OSV) for the Awaritse Nigeria Ltd vessel Prince Job I, now based in Chevron's Agbami Field, one of Nigeria's largest deepwater discoveries. The Sicilian company supplied the cranes for the 69-meter-long OSV which was built at the DeHoop Shipyard in Rotterdam.
Sormec chief executive Santo Sorrentino said the M350/EL crane is particularly popular on offshore vessels as it is compact, reliable, easy to maneuver and takes up minimal deck space.
The Prince Job I has been designed to fulfill a wide range of offshore operations in the Chevron oilfields, including the discharge of pipeline liquids, offshore inspection, maintenance and repair. The flexibility offered by installing two knuckle-boom cranes onboard will be invaluable to its crew.
"Building and installing two identical cranes on the same vessel was quite unusual, but it gave us the opportunity to further develop our expertise," said Sorrentino. "Attention to detail is key to Sormec's work. Every welded piece of metal, every bolt, every wire, every detail was rigorously tested."
"Safety is also of paramount importance with lifting systems. Over the last 25-years we have developed a brand renowned for manufacturing a broad range of reliable, accurate and stable cranes. Critically, we also help clients like Awaritse Nigeria Ltd save costs with our short production times and durable, high-performance products which reduce maintenance bills and drive operational efficiency," Sorrentino continued.
Sorrentino said his company takes pride in delivering bespoke hydraulic lifting solutions. "The Prince Job I is a strong case study showing how we work in collaboration with our customers to ensure specific requirements are met. Each model is informed by intense research and development which has taken place over many years."
Sormec manufactures bespoke hydraulic lifting systems for ships, vessels, oil rigs, barges and offshore services. The firm said it has consistently increased its global market share in the last 25 years by delivering tailor-made cranes for marine and offshore customers all over the world.
Sorrentino said consistent investment in manufacturing innovative, bespoke solutions for customers and a commitment to providing a meticulous 24-hour after sales service is central to Sormec's offering. "Sormec's global reach is a key selling point," he said. "We have dedicated customer support advisors strategically located all over the world. This enables Sormec to not only find the right solutions for our customers but to do it as efficiently as possible. In addition, we have engineers on stand-by to travel anywhere to deliver training courses for staff set to operating our cranes."
"We provide constant internal training within our team of dealers to ensure a first-class understanding of operating systems, components, maintenance and repair of all our cranes. This critically enables us to provide technical support quickly and efficiently to our clients. Sormec's global
distributor network provides
an efficient local service too, which is supported by regional operations across the world – including in
Europe
, Asia, India and the
Middle East
."