Port of Rotterdam Installing New Buoys and Dolphins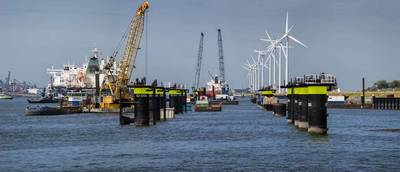 Work toward the expansion and replacement of buoy berths and dolphin configurations in the Port of Rotterdam's Caland Canal and the Botlek is underway, with a targeted operational time of autumn 2015, the
Port of Rotterdam Authority announced
last week.
The buoys and dolphins reinforce the existing clusters in both liquid and dry bulk and are being used more and more, according to the port authority. In the first half of 2015, transhipment at buoys and dolphins rose by 21 percent from 8.3 million metric tons to 10.1 million metric tons compared to the same period last year. The increase was related mainly to the transhipment of
fuel oil
.
The positioning of dolphin configurations and the replacement of buoy berths with dolphins is in line with the port authority's ambitions to modernize the existing port area and to use it as intensively as possible. Larger vessels can moor at the dolphin configurations. The replacement of buoys with dolphins is also an improvement in terms of safety. The port authority said it is investing a total of around €32 million in the positioning of dolphin configurations and the replacement of buoy berths.
In the Botlek, the port authority is replacing buoy berth 66 in the central channel of the river with a dolphin configuration. Thanks to an innovative structure – a special pontoon or 'morsponton' - it will shortly be possible to handle dry bulk at the dolphins from two sides, using floating cranes. In the Caland Canal, three existing buoy berths (81, 82 and 83) will be replaced with two dolphin configurations at dolphins 82 and 83. The new dolphin configuration 79b was already delivered a month ago a little further.
A year ago, dolphins 90 and 91 were positioned in Maasvlakte's inland lake. These dolphins have been used intensively since then, the port authority said. At the dolphin configuration – basically two sets of eight dolphins – vessels with a length of between 225 and 350 meters can moor. The maximum depth of the water is 23.65 meters NAP (New Amsterdam Water Level). Fuels and other liquid cargo, as well as dry goods such as coal and grains, can be transhipped here.
In the 1980s, the port authority managed 260 buoys. Next year, when all the buoys have been replaced, the port will have 29. The new mooring buoys have four eyes instead of one. Linesmen are used to pulling the hawsers through the eye of the buoy and securing them to it. This creates a ball of rope around that one eye, which can only be released with the aid of a machete. The new mooring buoy now provides a separate eye for every hawser. That makes the process of securing and releasing vessels quick and efficient. The so-called 'holding power' of the buoy is also improved.