Subsea 7 Vessel Installs iXBlue DP-PHINS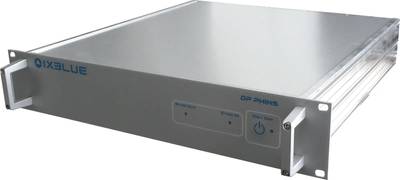 iXBlue DP-PHINS Inertial Navigation System has been proven in operation offshore West Africa for Subsea 7. The system delivers a robust and secure position reference in the case of corrupted positioning from satellite systems due to ionospheric Interference.

The 4 500 t DP2 Construction Support / Flex Lay vessel Simar Esperança has successfully completed FMEA (Failure Mode Effect Analysis) trials using the state of the art DP-PHINS inertial navigation system. The iXBlue system was connected to the Kongsberg K-POS DP-22 and the Kongsberg HiPAP500 system. The advanced inertial navigation technology contained within the DP-PHINS system fuses the acoustic positioning data from the USBL (GAPS or equivalent) with measurements of vessel rotation and acceleration to produce a blended position solution with smoother characteristics and a higher update rate than is possible from the acoustic system alone.

Operating in 1 364 m (4 475 ft) of water GL Noble Denton oversaw FMEA proving trials which confirmed the ability of DP-PHINS to integrate tightly with the DP system. Both static and dynamic tests were conducted, with the vessel holding position under control of the DP-PHINS to satisfactory tolerances. As part of the test, the vessel took excursions from the holding position, 20 m North South, East and West, followed by a 360 degree rotation of the vessel while maintaining auto position.