Simrad Yachting: New Color Instrument with Supporting Autopilot Control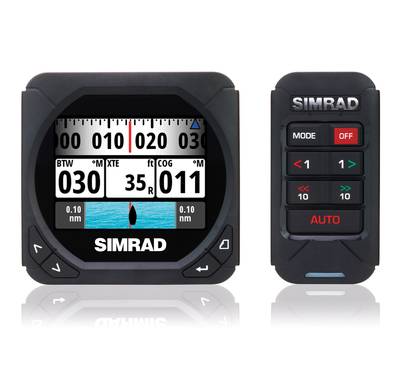 Simrad Yachting — a leader in the design and manufacture of professional-performance marine navigation, autopilots, communications and fish-finding systems — announced its next-generation instrument and autopilot solution — the new Simrad IS40 instrument and OP10 autopilot control range. Designed for power boaters and sailors alike, the Simrad IS40 is a single, fully customizable, "do-it-all" display that offers quick access to critical wind, depth, speed and autopilot information. The optional OP10 Autopilot Controller connects to the IS40 and provides full autopilot integration. Easy to install as a standalone instrument or as part of an integrated system, the Simrad IS40 delivers low-power, high-quality, easy-to-use navigational capabilities at an attractive price.
The Simrad IS40 offers operation, durability, and the largest instrument display in its category for clear and easy viewing. Equipped with a 4.1-inch, quarter-VGA, sunlight-viewable, LED-backlit display with 320 x 240-pixel resolution that is nearly 40-percent larger than competitive products, the instrument's bonded-glass construction ensures zero condensation and provides excellent visibility in all weather and lighting conditions — even at extreme viewing angles. The color instrument display features a simple-to-navigate menu structure, is controlled by three easy-access 'up, down and enter' buttons, and a dedicated 'page' key for quick data selection. Providing unparalleled control, the Simrad IS40 can be linked with an autopilot, allowing boaters to switch from manual steering to auto at the touch of a button. Its Micro-C backbone offers dual male/female connectors that support both daisy chain and 'T' connection for easy installation in any vessel.
The Simrad OP10 optional Pilot Controller seamlessly interfaces with the IS40 instrument to offer boaters convenient remote access of pilot-steering functions. Featuring large clear keys, straightforward operation and backlighting for night use, the pilot control's interface employs single-mode toggle and includes a prominent 'off' key for returning the pilot to standby. The controller is connected through a single Micro-C connection on the back of the device and sports a unique clip mount for easy installation. It is compatible with the Simrad AP24 and AP28, and it can be networked with the NSS, NSE or NSO multifunction display for remote autopilot operation. When integrated with a Simrad Yachting navigational system, pilot information and control can be accessed and operated from either solution. The OP10 also supports autopilot control for Volvo IPS drives.
"The Simrad IS40 and OP10 push the boundaries of design innovation to improve the on-the-water experience," said Louis Chemi, COO, Navico Americas. "Whether boaters travel by wind or motor, the new Simrad Yachting instrument and autopilot controller offer unparalleled monitoring, operation and seamless system integration that work in tandem with our best-in-class chartplotters."
Supporting both Micro-C and Simnet backbones, the Simrad IS40 interfaces with Simrad Yachting and B&G wind, speed, depth and heading sensors, as well as data sources from other manufacturers. Measuring 4.6-inches (118 mm) in width and height by .65-inches (16 mm) in depth, the IS40 requires .75-inches (20 mm) of depth behind the mounting plane. Designed for 12V DC environments, the IS40 draws a scant power range of 50-150mA. The OP10 Pilot Controller measures 2.3-inches (60 mm) in width by 4.5-inches (115 mm) in height by .65-inches (16 mm) in depth, requires .55-inches (14 mm) of depth behind the mounting plane, and draws only 50mA of power. The Simrad IS40 Display and Pilot Controller both operate within a temperature range of +5 to +131 degrees Fahrenheit (-15 to +55 degrees Celsius), are waterproof to the IPX7 standard, and they are both protected by a two-year parts and labor warranty.

Price & Availability:
The new Simrad IS40 instrument and optional OP10 remote have suggested retail prices of $599 and $299, respectively and will be available in October 2012 from authorized Simrad Yachting dealers and distributors throughout the United States and Canada. For more information on the Simrad IS40 Instrument and OP10 Autopilot Controller, or the entire line of Simrad Yachting branded professional-grade marine electronics, please visit www.simrad-yachting.com.