New Integrated Measuring System for Tube Bending Machines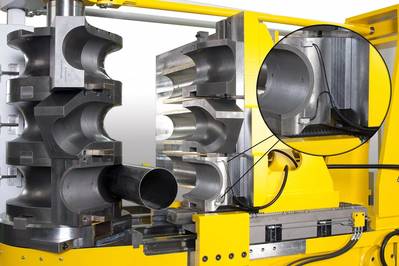 Bending, Measuring and Further Bending in One Go.


Those who want to accurately bend steel or stainless steel tubes and tube systems must accept long auxiliary processing times for the generally unavoidable measuring and adjusting process. This is because the rebound behavior of the materials can differ widely – even if the tubes come from a single batch. The production of prototypes and individual items is similarly time and labour-intensive. The Springmatic optical measuring system provides a remedy here: the new development from Schwarze-Robitec, which is integrated into the bending tool, measures the bent tubes directly whilst tensioned on the bending machine and immediately starts the required further bending process if desired or saves the required correction value for subsequent bends.


Instead of removing the tube after the bending process, checking it on an external measuring system then retensioning it for subsequent bending, tube processing companies can bend, measure and adjust in a single stage with the aid of Springmatic. Immediately after the bending of a tube, the new optical measuring system that Schwarze-Robitec is integrating into its bending tools records the rebound value, from which the CNC control of the tube bending machine calculates the required subsequent bending angle. Subsequent bending is carried out immediately afterwards – either fully automatically if desired or after clearance by the machine operator. "This integrated form of dimensional stability check and tube post-processing takes only a few seconds per work piece on average. This is contrasted with around three to five minutes required for measuring and adjusting in the conventional way," Schwarze-Robitec Plant Manager Jürgen Korte reports.


When developing the measuring system, the tube bending specialists from Cologne placed particular emphasis on a very broad range of applications: Springmatic reliably checks both thick and thin-walled tubes in the broadest range of materials and diameters. The system can be integrated into almost any bending tool and combined with almost all tube bending machines from Schwarze-Robitec. "The measuring accuracy from Springmatic is naturally equivalent to the accuracy of conventional external systems," Schwarze-Robitec Managing Director Bert Zorn adds. "Furthermore, users not only save up to nine tenths of the auxiliary processing times previously required; in individual item and prototype production, they additionally benefit from a noticeable material saving as almost every component is now also a useable bulk component. These advantages have an effect particularly in tube production for the automotive, machine and plant engineering, and shipbuilding industries."