PM Leads Talks on Boosting UK Maritime Interests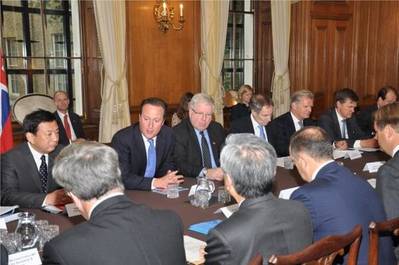 Government ministers and industry leaders met at number 10 Downing Street today for a meeting to decide how best to maintain Britain's competitive position in the global maritime industry.

The roundtable meeting, set up to mark the beginning of London International Shipping Week, was attended by senior figures from top global shipping companies and focused on the elements required to boost the UK's reputation as a leading maritime services centre.

Transport Secretary Patrick McLoughlin said: "This is an industry with a natural home in the UK and London is the centre of the world for the professional, business and financial services that keep ships sailing. 
"Our quality flag, attractive tax regime, competitive ports, skilled labour base, expert service sector, and stable regulatory framework put us in a strong position. We want to work with the industry to understand what could make the UK an even more attractive place to do business."


Shipping remains a growth industry in the UK and gross tonnage has more than trebled on the UK shipping register over the past decade. Employment in shipping has doubled from 73,000 in 2004 to 146,000 in 2011.

Mr Mcloughlin took advantage of this occasion, the first day of the inaugural London International Shipping Week to announce a boost for the government's Support for Maritime Training (SMarT) programme which will receive an extra £3m per year in addition to its original £12m per year budget. This £3m bonus will support an additional 200 trainees each year.

Commenting on the SMaRT funding increase, Kenneth MacLeod, President of the UK Chamber of Shipping said: "This is a clear vote of confidence from Government on the ability of the maritime sector to create UK jobs. The wider maritime sector supports 263,000 jobs and UK employment has grown 6% since 2009. I started my career as a junior rating on a ship's galley and I know first-hand that giving young people more opportunities to work at sea is vital to the continuing success of our maritime economy. As a result of today's announcement, more young people will have the chance to follow in my footsteps and build a career in global trade."