Marcon International Brokers 3,000-hp Tugboat Sale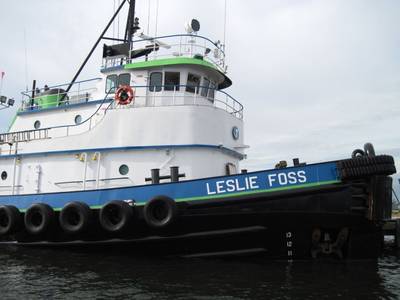 After 6 months of charter Marigny Tug LLC of St. Augustine, Florida has closed on the purchase of the U.S. flag tugboat "Leslie Foss".
Prior to the sale, the twin-screw, sheer bow, ocean tug "Leslie Foss" (ex-Caribe Pioneer) had been on charter from Foss Maritime of Seattle, Washington. This is the second tug sale that Marcon International, Inc. of Coupeville, Washington has brokered to the Buyer. The new owners are in the process of renaming the tug "Simone", after one of the principal's oldest daughters.
The 120' x 31' x 14.9' depth / 13.5' draft tug was built in 1970 at McDermott Shipyard in Amelia, Louisiana and underwent a life extension program in 2000. The ABS load-line classified tug is powered by a pair of EMD 12-645E2s developing a total of 3,000BHP and turning 5-blade 103" x 82" Coolidge props through Lufkin RHS 2524 4.128:1 gears. The tug's bollard pull is 37.5 tons and the free running speed is about 12kn.
Ships power is supplied by two 99kW main and one 75 kW emergency gensets, all powered by John Deere 6068s. With her 96,000 gallon fuel capacity, the tug has long-legs which helps when making tandem tows with her Markey TDSD-32 double drum tow winch, tow pins and stern roller.
She also carries a hydraulic combination windlass / bow winch with Plasma line for barge handling. To assist in salvage work the tug carries a welding machine, hydraulic deck crane, Orville Hook for barge retrieval, 3" portable salvage pump and a full complement of towing shackles, wire bridles, portable running lights and hawsers. "Leslie Foss" has quarters for a crew of nine in seven cabins.