Sea Tow Services International Celebrates Thirty Years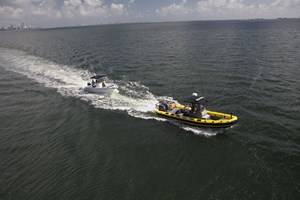 Your Road Service at Sea (R) Reaches Milestone Worth Celebrating.


For three decades Captain Joe Frohnhoefer and his wife Georgia of Sea Tow Services International have leveraged their greatest strengths-- Captain Joe's in-depth knowledge of the sea and Georgia's meticulous attention to detail-- and built an impressive worldwide network of everyday heroes, their Sea Tow Captains. Throughout 2013, Sea Tow International will celebrate these efforts and reflect on the ground-breaking accomplishments of the past thirty years.


"Each day I wake up grateful that Georgia and I were able to grow a thriving business around something I really enjoy doing- being out on the water. Every day brings its own new challenges and it's definitely never boring," said Captain Joe Frohnhoefer. "That's the common ground I have with the Sea Tow franchisees, we all agree that a bad day out on the water is a thousand times better than a good day at a typical office job."


Sea Tow Services International has been the on-water assistance fleet of choice for boaters since September 3rd, 1983. A franchise-based marine assistance organization headquartered in Southold, New York, Sea Tow International was founded--and an industry was born-- due to the U.S Coast Guard's privatization of non-emergency calls mandate put into effect by Public Law 97-322. Today boaters rely on Sea Tow for everything from jump starts and fuel delivery to a timely tow home.


Since 1983, Sea Tow Services International has grown into a thriving network of nearly one hundred franchise locations across the United States with additional offices in Europe and the Caribbean. This network consists of a dedicated team of more than seven hundred captains, plus crew and support staff that are standing by 24/7, to serve Sea Tow members and other boaters.


"I've been with Sea Tow for more than eighteen years now," said Captain John McLaughlin, franchise owner of both Atlantic City, NJ and Marco Island, FL. "I've been a part of its incredible growth-- from a licensing company-- to its current franchise model. The way Sea Tow is run-- with honesty and integrity-- and the high expectations that Captain Joe has-- it keeps you prepared for when disaster strikes. Everything I do, and everything every other franchisee does, really reflects well on all of us. Just getting through Hurricane Sandy (and the recovery efforts) I can't say enough how many wonderful comments I received from insurance companies and other responders about the level of professionalism
they experience when they deal with Sea Tow. I never thought I'd be this proud to wear that yellow shirt."


In addition, Sea Tow Services International and the Sea Tow Foundation provide access to a myriad of safety precautions that can be taken prior to venturing out on the water-- including but not limited to, life jacket loaner programs, boating and trailer tips, a free Automated Radio Check service and the highly touted Sea Tow App.


2013 will be filled with nationwide events to celebrate Sea Tow Services International's thirtieth anniversary including (but not limited to):


-- Golden Life Jacket Award
-- Joe & Georgia's 30th Anniversary Boat Show Tour
-- Thirty Days of Thirty Gifts
-- Holiday Stuff-A-Boat