ROMAR International Extends Product Range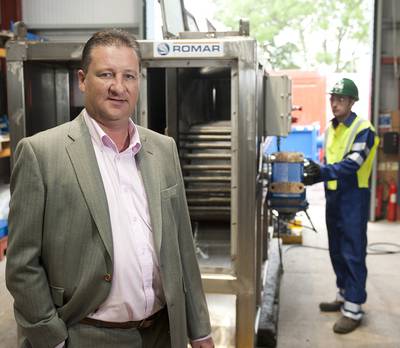 Aberdeenshire-based oilfield service company ROMAR International has expanded its product range with the launch of a new swarf recovery unit, as a result of more than doubling investment in research and development (R&D).

To ensure it can respond to the future increased demands of the offshore well plug and abandonment sector within the oilfield decommissioning industry, the company took delivery of its new SS3000 swarf handling unit this week.

It is ROMAR's newest state-of-the art technology, which offers increased safety performance by removing large quantities of swarf and harmful metal contaminants from fluid systems without the need for human intervention.

As part of ROMAR's efforts to deliver value-adding, innovative and efficient products for the oil and gas sector, it has committed a 150% increase in R&D investment this year. Last year the company put almost £100,000 into R&D and this year it has allocated £250,000 into expanding its range of magnetic separation technologies.

ROMAR has experienced substantial growth already this financial year compared to Q1 last year. The company's turnover in 2011 was £370,000 for the first quarter of its financial year, which increased to £760,000 for the same period in 2012, as a result of its investment in additional assets and improved equipment utilisation.

SS3000 has been developed on the experiences and successes of the company's earlier swarf recovery units, the SS1000 and SS2000. In developing this latest unit, ROMAR has progressed its already proven swarf technology by re-configuring the magnetic fields in SS3000 to further improve the units efficiencies, including its capability and performance, its reliability and also many HSEQ benefits.

With a stronger magnetic field than the previous models, the SS3000 can cope with greater volumes of metal debris returns from down-hole at higher flow-rates. It has been developed by ROMAR's in-house engineering staff using the unique ROMAR magnetic separation intellectual properties combined with practical operational expertise from many projects.

ROMAR International Commercial Director Robbie Gray said: "Delivering added value solutions to our clients is key to ROMAR's growth aspirations and SS3000 was developed following requests from industry customers for a unit with a proven separation process and greater efficiency to clear larger volumes of metal debris returns from down-hole at higher flow-rates and within a reduced foot-print and weight. These are major considerations for system selection on many offshore platforms and rigs because of space, lifting and POB constraints on site.

"ROMAR's on-going research and development in line with the requirements of the oil and gas industry is a fundamental part of the business and a differentiator for us in an industry sector which will significantly grow over the next four-five years as the number of wells to be plugged and abandoned increase.

"The arrangement of SS3000 builds upon our other swarf handling technologies that have been successfully used in commercial applications, and we have already received a great deal of interest in the unit, in particular from the UK and Norwegian markets. We are confident it will be very well received in the industry for operators involved in decommissioning operations."

ROMAR provides magnetic separation products and services to operators and drilling contractors globally. The company's suite of products deliver increased safety performance by removing large quantities of swarf and metal particles from fluid systems and reduces the need for unnecessary mechanical or human intervention, eliminating personnel exposure to harmful swarf and hazardous chemicals.

ROMAR's patented range of en-mass magnetic separation products are the only technologies of their kind currently available to the offshore oil and gas industry and underpin ROMAR's position as number one market leader in this sector.

The SS1000 is ROMAR's 'compact' swarf handling unit designed for those milling operations where swarf returns are minimal and do not justify the mobilisation of bigger systems designed to cope with much higher volumes or flow-rates. The SS1000 can handle swarf volumes up to 0.5Te/hour and fluid flow rates below 500gpm.

The SS2000 is designed for handling en- mass volumes of swarf with its proven operating capacity of up to 2Te/hour and fluid flow rates of up to 1000gpm.