Intracoastal Waterway Reopened After Barge Collision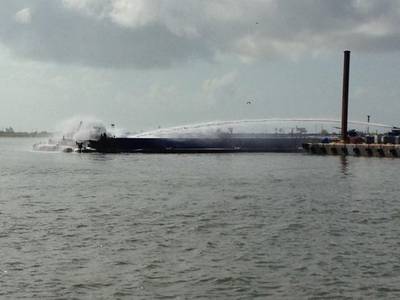 The U.S. Coast Guard has fully reopened the Intracoastal Waterway (ICW) near Bolivar Peninsula, Texas Monday at 9:15 p.m. Monday, after closing it for a barge collision earlier in the day.

At approximately 1:20 a.m. Monday, a collision occurred at ICW mile marker 349 involving two eastbound Kirby Inland Marine barges being pushed by the tug Capt. Shorty C and two westbound Enterprise Marine Services barges being pushed by the tug Jackie.

The collision occurred when one tug pulling the barges reportedly lost power. Three of the barges were damaged in the incident, including one that was on fire until responders extinguished it.

No injuries were reported. Response officials do not believe any significant amount of product was released into the waterway.

The ICW runs between barrier islands and the coast of the U.S. mainland in the Gulf of Mexico and intersects the Houston Ship Channel to mile marker 350.