Propen Introduce New M7000 Portable Engraving Tool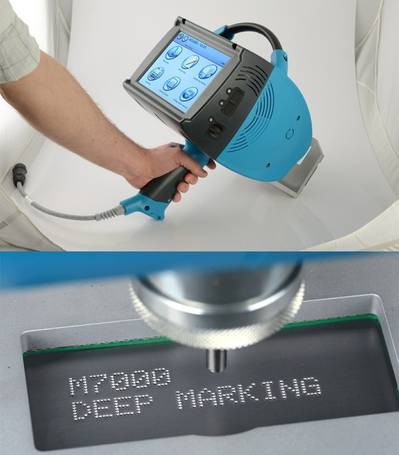 PROPEN is a Gravotech brand, designer and manufacturer of permanent marking solutions for the industry: they introduce their new M7000 portable marking solution.

This newmarking solution is fully mobile, with Integrated Control Unit and Belt Battery; extremely simple and user-friendly with Intuitive Programming, easy to hold by hand, fast and offers the deepest marking possible in its class with a brand new stylus technology.
The M7000 has a 7" color touch screen with the ability to use with gloves on. The M7000 offers 2 USB Ports, a large memory space with the ability to store over 2000 files, 5 standard fonts, the ability to import 100 files in less than 5 seconds and a fast marking process (10 characters per 3 seconds) for an indelible mark of the highest quality.

With the M7000, you have the opportunity to engrave all your products with logos, serial numbers, linear text, Data Matrix, month, date or year codes. There are a number of accessories available with the M7000 including: the M-Travel case, battery belt, docking station, lift ring for balancer, cooling fan and screen protector. For more information, please visit www.propen.us.