Solid State Gyro Compass Introduced by Alphatron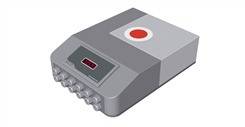 Alphatron Marine adds a fiber optic heading sensor to its gyro compass product range
The small light-weight fast setting device, contains a fiber optic and 1Xblue core as sensor reference, and is fully approved by class and is MED wheel-marked.
The Fiber Gyro compass is directly connectable to a variety of ancillaries via a unique galvanically isolated docking station, among them are bearing repeaters, OSV approved interswitches, Digital repeaters repeater stands and brackets.

Due to its extreme robustness and size as well as the output of roll and pitch information as second signal, the Alphafibercourse is targeting the high end market of the marine industry:
• Fast crew suppliers
• Rigid inflatable (RIB)
• Dredgers
• Platform suppliers and anchor handlers
• DP classed vessels
• Various offshore applications
• Patrol vessels
• Chemical tankers
• Fast ferries
• hand carried survey tool kits
The Alphafibercourse will be introduced at SMM in Hamburg from 4-7 September 2012.