Tideland Introduced New Navigation Aids at Seawork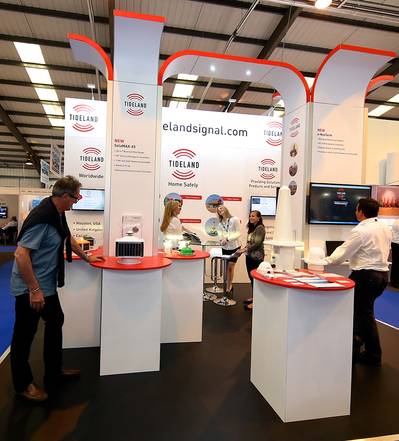 Tideland Signal Corporation (Tideland) introduced a number of new innovative aids to navigation (AtoN) products at Seawork 2015, including SB-1800, the newest member to our popular high performance and low maintenance polyethylene buoy product line and our new SolaMax range of self-contained lanterns, a cost-effective range of 3 to 7NM self-contained lanterns.
Seawork international commercial marine exhibition and forum held 16 – 18 June 2015 in ABP Port Southampton, UK provided the perfect platform to present the latest innovative solutions Tideland has to offer to the marine industry.
SolaMAX-3 and SolaMAX-65 self-contained lanterns were featured products at the booth and many visitors expressed great interest.

In addition to Tideland's exhibiting booth, Tideland also had a number of buoys on display in the marina and Tideland's SB-1800 sparked great interest. Its unique design allows deployment in a wide variety of applications that includes shallow water, channel edges, rivers up to 6 knots current, deep harbours, and fast current tidal zones.
The exhibition was a great success with Tideland receiving the highest number of enquiries ever taken at the Seawork exhibition, with a number of genuine leads to follow up over the coming weeks.