Tracer Introduces Leak Detection Solution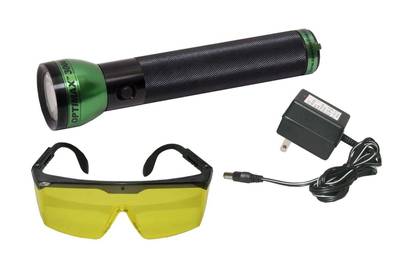 Ultra-Powerful Leak Detection Flashlight Slashes Inspection Time For Marine Vessel Technicians.

Tracer Products has unveiled the Tracerline TP-8690 OPTIMAX 3000 — the world's most powerful, portable, blue light LED fluorescent leak detection flashlight. With its focused beam, the OPTIMAX™ 3000 makes it easier than ever to find air-conditioning and fluid leaks. Now, marine vessel technicians can pinpoint all leaks the first time and avoid comebacks due to undetected leaks. And there are no cords that can get snagged on engine parts!
The OPTIMAX 3000 uses breakthrough super-hi-flux LED technology to deliver 15 times brighter leak detection light than regular LED lamps. Its power equals that of 150-watt lamps that must be plugged into an AC power source, and it has an inspection range of 20 feet (6.1 m) or more. Powered by a rechargeable NiMH battery, the unit has an LED lifetime of 50,000 hours. The flashlight comes with fluorescence-enhancing glasses and an AC battery charger. A DC charger can be purchased as an accessory.