Ultra Dynamics Introduces UltraJet 251HT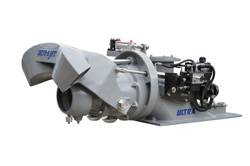 Ultra Dynamics has introduced the UltraJet 251HT (High Thrust) specifically for lower speed craft.
The UJ251HT has a similar physical size and weight to the standard UJ251, however, utilises a different impeller to achieve higher thrust per horsepower compared to the standard UJ251, and similar-size waterjets. The UJ251 and the UJ251HT have similar hull footprints enabling boat builders to offer a standard UJ251 for most general applications and the UJ251HT as an option for heavier boats, towing, or high bollard-pull applications.

Following Ultra Dynamics practice, this new model is constructed from marine grade aluminium alloy, with the impeller, impeller ring, and shafts made from stainless steel. The materials and design emphasise high performance, efficiency, and durability to permit reduced operating costs for boat owners and operators. The intake housing is designed for good water flow to the impeller at lower boat speeds and for sprint speeds up to approximately 35 knots, depending on hull type. The UJ251HT is ideal for towing and salvage workboats, bridge erection boats and landing craft.
The UJ251HT follows the success and popularity of the UltraJet 305HT that also provides high thrust and bollard pull in a compact installation envelope. Grovfjord recently fitted their 60th boat, 'MS Sonja' with an UltraJet 305HT. Currently our Engineering Department is focusing on new and larger HT UltraJet models to meet our customer's fleet requirements.