Hella Introduces New Sea Hawk XL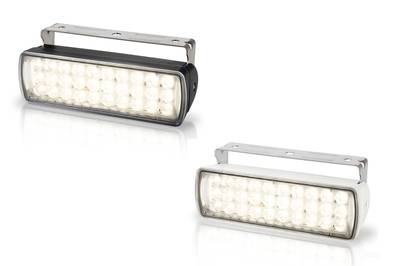 Hella marine released the Sea Hawk XL LED Floodlights and Deck Lamps. The CE-approved lights use 30 LEDs to produce 750 lumens of light. Light intensity on the Sea Hawk XL series adjusts with integrated two-step dimming, controlled through most off-the-shelf switches.
The lamps offer more than 80% power savings over halogen models, using only 12W at high intensity and 2W at low. The lens, precision-molded from high-performance polymers, offers superior strength and durability. A sealed, pre-wired twin core marine cable ensures a secure and reliable connection. Severe voltage fluctuations and low battery voltages won't affect performance of these lights, thanks to Hella's advanced multivolt electronics.

With a completely sealed IP 67 design, the lamp housing is manufactured from high-impact plastic that resists UV discoloration and deterioration. The highly polished, 316 stainless steel bracket uses friction mounts for easy adjustment of the light's angle without tools.

Weighing in at 14 oz. and measuring 6.69" W x 2.68" H, the Sea Hawk XL series offers two light pattern options in either a black or white housing. The LED Floodlight illuminates a wide spread over a cockpit, foredeck or working area. The LED Deck Lamp provides a narrow and concentrated spot beam, appropriate for use on a yacht mast or to assist in low speed docking. When forward facing, the deck lamp helps illuminate objects in the water.

The company backs the Sea Hawk XL series with a five-year warranty.