Seago Line Introduces New Vessel to Liverpool Service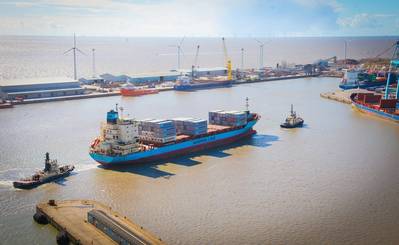 Maersk subsidiary Seago Line has introduced a new vessel to its recently created feeder service calling at Liverpool. The Independent Accord has already started operating on the new cargo route between Algeciras-Liverpool-Dublin that began in April.

The service was established to provide direct cargo connections to and from the north west of England to Ireland and onwards to the Mediterranean, providing trade links to North and West Africa. It offers a six-day transit time between Algeciras and Liverpool, with vessels arriving and departing on Wednesdays.

The return to Liverpool in April was the first time that the Maersk Group Company had used the port for UK cargoes in over 10 years and is its first ever direct connection to the Irish capital. The Independent Accord replaces the 1,100 TEU Antwerp, which has operated the route since April.

"We are very happy to be introducing a new vessel to the route so soon after we created this new connection to Liverpool, expanding our product portfolio for markets in the UK and Ireland", said Seago Line General Manager for UK & Ireland, Robert Clegg. "We are well placed to serve customers looking for new opportunities through a Mediterranean connection, thanks to our competitive transit times and convenient berthing windows. We are also able to offer our customers in Liverpool's hinterland access to South European and North African markets via Seago Line as a complementary addition to our existing offer."

Liverpool2 started handling its first containers earlier this month and will continue with a phased opening throughout the summer and full operation of Phase 1 from the autumn.