Mariscope Introduces New ROV to South America and Europe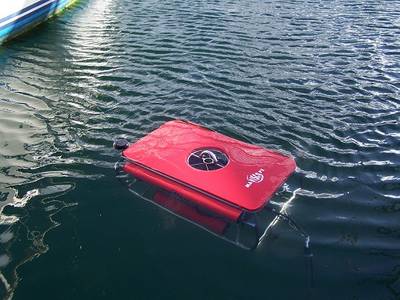 In cooperation with the Kentucky-based company Acamar Maritime Solutions, LLC, Mariscope has developed the new McClean ROV cleaning system. The McClean is the first ROV with rotational heads using cavitation jetting technology to clean many types of underwater structures.

During the official presentation carried out in March, 2013, in the city of Puerto Montt, Chile, Chuck Phillippe from ACAMAR and Christian Haag from Mariscope demonstrated the potentials of the system.

After the official presentation, field tests were carried out with interested clients. Excellent results were achieved cleaning heavily fouled mooring chains and fish nets in the local aquaculture industry. Thanks to this technological advance, it is now possible to replace the extremely dangerous high pressure water jetting for underwater cleaning purposes with a much safer cavitation system.

This new ROV cleaning solution is offered by Mariscope with different head assemblies to accomplish many types of tasks with the same equipment. In addition, hydraulic driven assemblies are available to clean in places otherwise not accessible with the ROV.

At the recent Ocean Business 2013 Show in Southampton, numerous attendants from different industrial groups showed great interest in the McClean system. Mariscope was delighted with the number of professionals who approached the booth to obtain more detailed information about the system. From these conversations, new applications for this system were discovered. One example is the cleaning of archaeological sites without damaging the "treasures" that need to be investigated. In fact, due to the low pressure of the cavitation jet, the different layers of material on an archaeological site can be readily removed without involving the pieces of interest.

During the coming months, Mariscope and Acamar will be demonstrating this new system and its variety of uses in Europe, South America and the U.S.