SSP Introduces Medium Pressure Check Valves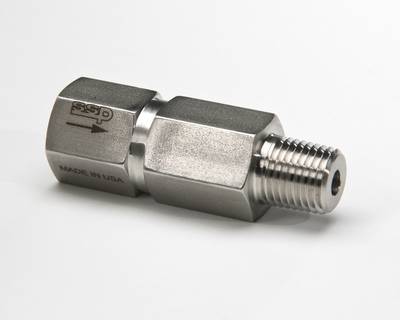 SSP, a US introduces the CP/CPA series of Medium Pressure Check Valves.
The CP series is factory- set at one fixed cracking pressure while the CPA series allows for adjustment of the cracking pressure in the field. The new line of check valves has a maximum working pressure of 3,000 psi, nominal sizes of ¼" and ½"and is manufactured from 316 Stainless Steel with FKM Oring seals and brass with Nitrile O-ring seals.

To simplify field replacement, these check valves meet industry standard characteristics, having the same dimensions, flow characteristics, materials of construction, pressure ratings and series numbering.

In addition to meeting these industry performance standards, SSP CP/CPA Check Valves feature unique options such as color-coded deflector caps for easy identification of line pressure, system cracking pressure, or system media. The caps are machined from durable aluminum and anodized with colors to match the Compressed Gas Association standard EN 1089-3.*,

SSP offers more cracking pressure options than other manufacturers with 18 available cracking pressures up to 100 psi. Installers are able to easily modify these valves in the field with factory Spring Kits. 'Spring Kits' include spring, o-ring, label and the applicable instruction sheet.

The CP/CPA series also feature SSP's exclusive field support via Quick Response (QR) codes that can be accessed in the field via any smartphone.