Lumitec Introduces the SeaBlazeX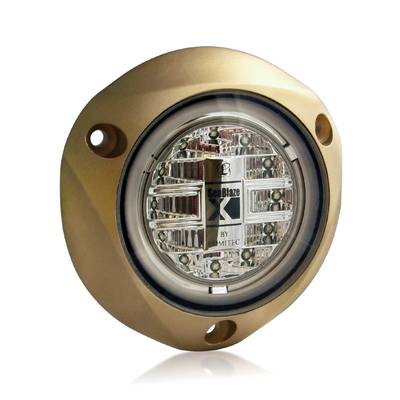 Lumitec, a designer and manufacturer of marine LED lighting solutions, introduces the SeaBlazeX underwater light.
The SeaBlazeX is the latest offering in Lumitec's industry-leading Seablaze line, and features twice the useable light of the SeaBlaze3.


"This light will unquestionably change the underwater lighting landscape," said Lumitec Founder and President John Kujawa. "After firmly establishing lumens-per-dollar value leadership with the top-selling SeaBlaze3, our engineering team took on the ambitious goal of doubling that value while incorporating features that our customers had been asking for.


Completely surface mount, the SeaBlazeX housing is constructed of carefully formulated bronze alloy with a designed underwater service life of more than 50 years. The circuitry is self-contained and tested to rigorous military standards for EMI, transient voltages, temperature extremes, and mechanical shock and vibration. An innovative wire guard protects the power wire and offers a clean, professional appearance on the inside of the vessel.


Exclusive thermal foldback technology ensures the light can operate above water indefinitely without damage. And with a lower profile and smaller footprint than most other lights, mounting options are no longer limited to wide flat transom areas.


The SeaBlazeX is currently in production, with shipments commencing in January.