Wesmar Introduces New Catch Sensors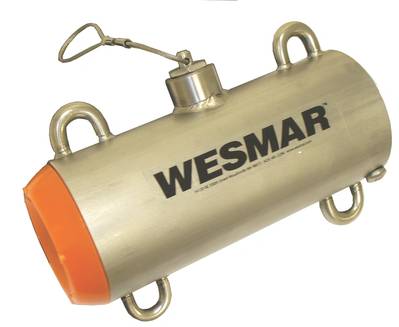 Wesmar, a U.S. manufacturer of sonar equipment, has introduced its new line of trawl sonar catch sensors. 'They are the fastest and most powerful on the market," said Dennis Soderberg, WESMAR's Vice President of the Electronics Division.
The Model CS20 WESMAR catch sensors work with the highly popular WESMAR TCS780 and TCS380 trawl sonar systems. Up to six catch sensors can be used on the cod end of a WESMAR system. Numbers 1-4 are compatible with other trawl systems. The catch sensors measure the fill rate of the trawl indicating when the code end is full so the catch can be hauled in at the appropriate time. Catch sensors eliminate the problems caused by overfilling the trawl and improve catch efficiency and quality.
Known throughout the world for its innovative and advanced fishing sonar, WESMAR is no stranger to the needs of fishermen and has worked for several years to perfect a system that reliably measures the fill rate of the trawl and alerts the wheelhouse when the net is full, saving them thousands of dollars in potentially lost catch and/or damaged nets. Wesmar released several features that set their catch sensors apart from other eggs.
They transmit at the highest power on the market.

No signal delay. Once triggered the catch sensors send five signals, 5 seconds apart, alerting the wheelhouse instantly. After these initial transmits the sensors will transmit every 60 seconds to save battery life. Other eggs only fire every one minute and not every transmission makes it through, risking the whole catch.

When triggered an alarm in the wheelhouse reports the catch sensor number.

WESMAR's catch sensors slip easily in and out of the carrier but the carrier stays on the net eliminating repeated mountings and setups.
The sensors are completely sealed, leak proof, and protected in a durable stainless steel carrier.