UK Launches Groundings Investigations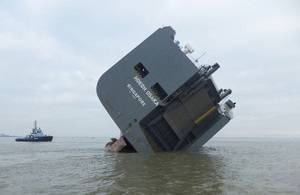 The U.K.'s Marine Accident Investigation Branch (MAIB) investigators deployed to Pentland Firth and to the Solent
Cemfjord
MAIB investigators have been sent to the north coast of
Scotland following
the accident in the Pentland Firth involving the cargo ship Cemfjord.
The upturned Cyprus-flagged vessel was sighted on the afternoon of Saturday, January 3 by the passenger ferry Hrossey.
Hoegh Osaka
An investigation has begun following the grounding of the
car carrier Hoegh
Osaka on the Bramble Bank in the Solent.
The vessel grounded on the evening of Saturday, January 3 having departed from Southampton for Bremerhaven, Germany.