Investment Now Means Continued Prosperity in the Future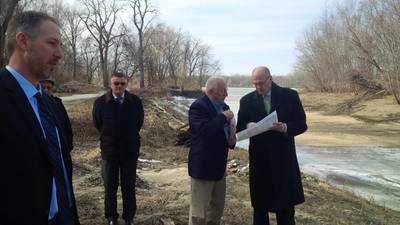 Our transportation network consists of different modes like roads, railroads, ship channels and ports. But when it comes to transporting food, building materials, bulk commodities, items used in manufacturing and finished products, each of those modes must be firing on all cylinders and in sync with the others.
It is hard to overstate America's reliance on a safe and efficient freight network. This network is the circulation system that fuels our economy health and helps secure our Nation, and the Obama Administration has consistently emphasized the importance of improving our infrastructure.
That is exactly what brought me to Quincy, Ill., earlier this month. With $12 billion in goods transported to global markets each year through Quincy by road, rail, or river, this community is a domestic and international economic hub.
Because our population will grow by 70 million during the next 30 years, and to support that population our freight volume will have to increase by 45 percent, community leaders in Quincy are working with DOT's Build America Transportation Investment Center (BATIC) to develop a port that can support the region's expected freight growth.
BATIC functions as a "one-stop shop" for communities and investors seeking innovative financing strategies for infrastructure projects. The Center focuses on facilitating access to DOT credit programs and helping project sponsors improve project development and delivery by leveraging the Department's expertise. For example, in New Jersey, BATIC is working with the Essex County-Port Newark Container Terminal, a public-private partnership (P3) to increase productivity and double cargo capacity by 2030.
However, the BATIC program is not a substitute for reliable Federal funding for American transportation infrastructure. This is why this Administration continues our efforts towards developing long term solutions.
Last week, Secretary Foxx spread the message about the importance of investing in America's infrastructure on the GROW AMERICA Express bus tour where he encouraged Congress to act on a long-term transportation plan. Earlier this month, the Administration proposed a six-year $478 billion transportation budget – GROW AMERICA – t hat promotes investment in America's infrastructure while also putting more Americans back to work repairing and modernizing our national transportation network. This proposal included funding to transportation stakeholders seeking to grow our national freight network and our economy.
Secretary Foxx framed the issue best when he said, "For too long, our national dialogue about transportation has been focused on recreating the past."
America's continued prosperity depends on the proactive efforts shown by leaders in communities like Quincy, Ill., to prepare for the future. And nothing will encourage forward-looking efforts at the local level more effectively than a forward-looking transportation bill like GROW AMERICA that provides the long term funding certainty communities like Quincy need.


Source: U.S. Department of Transportation Fast Lane Blog