SST Invests In Fleet Renewal in Canada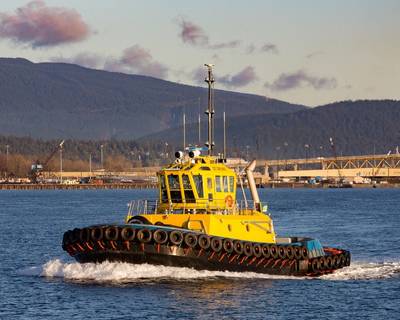 Saam Smit Towage Canada takes delivery of new built tug SST Capilano, to be added to the fleet of 21 tugs operated in British Columbia. The addition of this tug will further strengthen the fleet that Saam Smit Towage operates in British Columbia.

Saam Smit Towage (SST), a joint venture between SAAM and Royal Boskalis and operating in various locations in the Americas, took delivery of a new tugboat. Strengthening its fleet in Canada, the "SST Capilano" joins the 21 tugboats the company operates in British Columbia. The tug is named after Chief Joe Capilano, a renowned historic leader of the Squamish First Nation. Chief Capilano was an early champion of First Nations' rights at the turn of the 20th Century.

The new tugboat is 22 meters long and will deliver 65 tons Bollard Pull. The SST Capilano is part of the renewal plan of the Canadian fleet, which includes the recent addition of 2 existing modern tugboats and the construction of two new tugboats at ABD Shipyard in North Vancouver. Frans Tjallingii, President of Saam Smit Canada. said "The new tugboat will help the Saam Smit Towage fleet meet the higher power requirements driven by increasing ship sizes of their clients as well as meet increased safety standards."