Island Marine Fuel Wins Award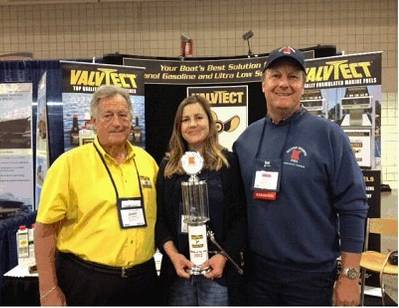 Island Marine Fuel of Balboa Island (Newport Beach) California wins the prestigious 2012 ValvTect Marina of the Year award.

Chosen for its outstanding customer service, environmental stewardship, contributions to its community and extensive marketing of ValvTect Marine Fuels, Island Marine Fuel has a long and rich history in the Balboa Island/Newport Harbor area that goes back to 1913 when Joseph Beek arrived in the Newport area from Los Angeles. After serving as its first Harbor Master, Mr. Beek opened Island Marine Fuel on Balboa Island in 1933. Now operated by his grandson David Beek, Island Marine Fuel has become a corner stone of Newport Harbor which is the home to over 10,000 registered vessels.

"We are pleased to represent ValvTect Marine Fuels in Newport Harbor" said David Beek. "After being a Unocal 76 fuel dock for almost 50 years, we were proud to bring the ValvTect brand to the harbor. Once we did, our fuel sales kept growing as customers told other boaters that they were getting better fuel economy, less smoke and triple the fuel filter life from using ValvTect Marine Fuels".

Island Marine Fuel has no slips for vessels to dock, but has the longest fuel dock in Newport Harbor that can accommodate vessels up to 160 feet. It provides oil changes, is an official California Used Oil Collection Depot, has a full mini-mart, marine hardware store, offers fresh bait and has a full time master marine mechanic on staff.

"We are pleased to present the 2012 ValvTect Marina of the Year award to Island Marine Fuel who has given so much to the local boating and non-boating community" said Jerry Nessenson president of ValvTect Petroleum Products. "We are fortunate to have many of the industry's best marina operators represent the ValvTect brand. Giving back to the community is important and we want to reward the effort" he said.
In the picture: Jerry Nessenson (left) presents the 2012 ValvTect Marina of the Year to Barbara and David Beek of Island Marine Fuel of Balboa Island, California.