Marine Money Istanbul Ship Finance Forum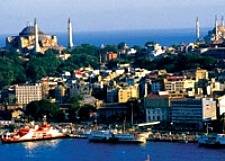 Registration is open for the 10th Annual Marine Money Istanbul Ship Forum on May 22, 2013 at the Swissotel - The Bosphorus.

Meet with shipping professionals to hear about how to position your business in these challenging times.

The latest issues in Turkish shipping and ship finance will be discussed by industry experts in Istanbul. Confirmed to-date speakers and sponsors include, among others, AlixPartners UK LLP, AKT Law Firm, Besiktas Shipyard, Geden Line, Desan Shipyard-Kaptanoglu Holding, Det Norske Veritas S.A., Duzgit Shipholding Limited, European Bank for Reconstruction & Development, Falkenberg Law Firm, GarantiBank International N.V., HSH Nordbank AG, IRI / The Marshall Islands Registry, Istanbul Bilgi University, Morgan Stanley Equity Research, Paragon Shipping Inc., Pareto Project Finance AS, V.Ships Istanbul Marine Services Ltd. and Watson, Farley & Williams LLP.

This year's regular delegate rate$ 800. Event details and registration informationcan be viewed at www.marinemoney.com/forums/IST13/index.htm.