Italian Navy, More Subs with Siemens Fuel Cells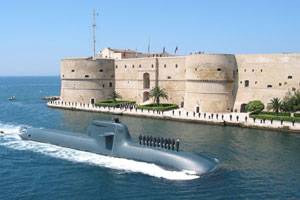 For the Italian navy, the Siemens Industry Solutions Division is equipping two new submarines of the U212A type with fuel cell modules for air-independent propulsion. The systems are ordered by Howaldtswerke-Deutsche Werft GmbH (HDW). Delivery of the two submarines to the Italian navy is planned for 2015 and 2016. This will increase to 30 the number of submarines plying the seas worldwide with a Siemens fuel cell technology. The order has a volume of around $42.6m.

The submarines are being built at the Italian Fincantieri Cantieri Navali Italiani S.p.A shipyard. By order of HDW, Siemens is delivering two PEM (polymer-electrolyte-membrane) fuel cells each as core components of the air-independent propulsion as well as the associated automation and control systems. The solutions and systems used are part of the Sinavy SUB solution platform developed specially for submarines.

The PEM fuel cell system takes charge of the power supply, thus enabling air-independent propulsion (AIP) of submerged boats. The AIP system comes from HDW. Siemens is supplying the fuel cell system and delivering the associated automation and control systems based on the Simatic S7 platform. The fuel cells convert oxygen and hydrogen directly into electricity without generating noise or pollutants. They are distinguished by high efficiency and extremely slight signatures. Contrary to conventional diesel-electric submarines, submerged time is prolonged by a multiple, which benefits operative deployment.

The equipment supplied by Siemens is currently the most up-to-date technology available for non-nuclear submarines. The latest order is for licensed manufacture of the first lot belonging to this class. The first two models also arose out of German documentation in Italy and have already been in use by the Italian navy since 2006 and 2007.