Great Ships of 2014: Höegh Jacksonville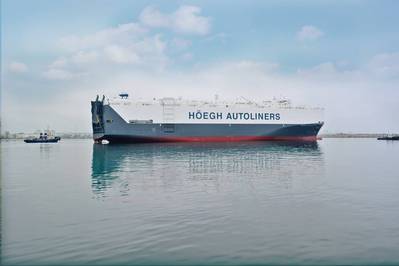 Höegh Jacksonville was delivered by Daewoo-Mangalia Heavy Industries S.A. (DMHI), the first from a series of two 6,500 units Pure Car Truck Carrier (PCTC). This vessel is owned by Ocean Yield from Norway while the charterer is Höegh Autoliners AS, a leading global provider of RoRo vehicle transportation services, based also in Norway.
The vessel, the biggest of her type ever built into the Black Sea and the Mediterranean Sea area, measures 655.8 x 105.8 x 32.2 ft. (199.9 x 32.26 x 10 m), a maximum speed of more than 16 knots, powered by a MAN B&W licensed main engine rated at 8,330 kW. The ship was built under the supervision of DNV and registered in a port of NIS (Norway International Ship Register). The vessel presented challenges in terms of welding thin plates and designing for maximum vehicle loading capacity in a small space. In addition to the vessel's size, the installation of the specialized equipments for carrying the wheeled cargo was successfully finalized by the DMHI employees, which required high skills and delicate welding. The vessel was delivered upon contractual delivery date, just 12 months after steel cutting and also the total recorded period elapsed after contract signing.
(As published in the December 2014 edition of Maritime Reporter & Engineering News - http://magazines.marinelink.com/Magazines/MaritimeReporter)