Japanese Tsunami Pontoon Beached in Oregon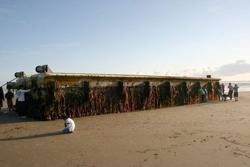 A large floating dock unit, a victim of last years Japan tsunami has washed up on Agate Beach, Oregon, USA
EPA/Oregon Parks and Recreation Department informs AFP that the Japanese consulate has confirmed the large dock, which measures 7 feet tall (2.1 meters) by 66 feet long (20.1 meters) by 19 feet wide (5.8 meters), is debris from the March 2011 tsunami.
A commemorative plaque on the dock showed it was one of four owned by Aomori Prefecture that broke loose from the port of Misawa on the north.
One of the four docks turned up several weeks later on an island south of Misawa, but the other two are still missing, said Akihisa Sato, an engineer with Zeniya Kaiyo Service, the dock's Tokyo-based manufacturer. The docks weigh 165 tons each, Sato said.