Jeppesen Launch N. American MAX-L Charts for Boaters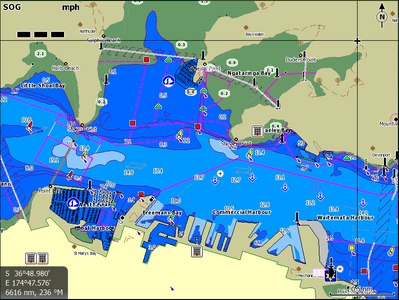 Jeppesen introduce new C-MAP MAX-N Local charts to North American boaters at the 2013 Fort Lauderdale International Boat Show. MAX-N Local charts deliver the trusted Jeppesen chart detail and information boaters need to explore their favorite fishing, diving and cruising spots at what they say is a reasonable cost.
The availability of MAX-N Local cartography is important news for the many owners of popular Lowrance Elite 7 and HDS Gen1, Gen2 and Gen2Touch, Simrad NSS, NSE and NSO, and B&G Zeus Touch Multifunction Navigators.

MAX-N Local charts feature up-to-date data from official sources, with detailed presentation of Depth Areas and Contours, Spot Soundings, NavAids, Light Sectors, Wreck/Obstructions, Anchorage Areas, Small Craft Facilities and more. These advanced charts also provided clearly marked boundaries for Restricted, Caution, Fishing and Prohibited Areas (including California's expanding network of Marine Protected Areas) for the region, helping boaters and fishermen stay out of danger and on the right side of local regulations according to Jeppesen.

Jeppesen's MAX-N Local charts are available immediately on pre-programmed micro SD cards (with adapter) through Jeppesen dealers or online via Jeppesen Direct. In the near future, MAX-N Local charts will also be available for download directly through the Navico Insight Store (InsightStore.Navico.com).
www.jeppesen.com/marine/MAX-N