DNV GL Grants AiP for Kawasaki's New MOSS Tank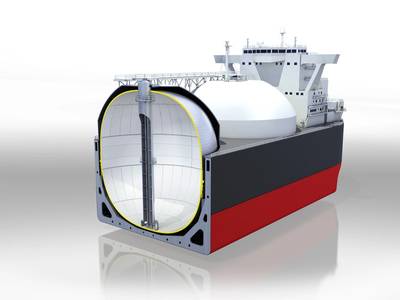 DNV GL has awarded Kawasaki Heavy Industries, Ltd (KHI) an Approval in Principle (AiP) for its newly developed non-spherical (MOSS) tank. The new tank is a IMO Independent Type B LNG tank that has been developed for use in 180,000 m3 LNG carriers designed to pass through the new Panama Canal.

KHI said that the new tank has the same reliability as a spherical (MOSS) tank, but has an increased cargo capacity of 15 per cent. It can also be used with the "Kawasaki Panel System", an advanced heat insulation system developed by KHI. DNV GL carried out sloshing and buckling analyses together with KHI, which demonstrated that the new tank provided an equivalent level of safety performance to the well-known spherical (MOSS) tank with no filling restrictions.

"As DNV GL's experience with LNG has grown over the years, so too has our conviction that LNG can make a significant and positive contribution to the efficiency and sustainability of the energy and maritime industries," said Johan Petter Tutturen. "To keep this momentum for the use of LNG growing, DNV GL will continue to work with innovative partners like KHI to ensure that owners and yards can be confident that this technology will continue to advance, while meeting strict safety and reliability standards."

An AiP is an independent assessment of a concept within an agreed framework, confirming that the design is feasible and no significant obstacles exist to prevent the concept from being realized. The AiP is typically carried out at an early stage of a project to confirm its feasibility for the project team itself, company management, external investors or regulators.