Keeping Canada Moving: A New CFOA Report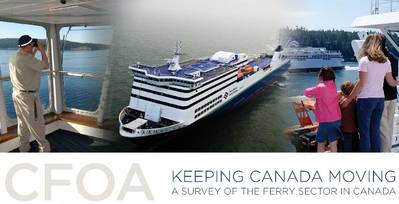 The Canadian Ferry Operators Association (CFOA) officially released 'Keeping Canada Moving', an industry report that highlights the ferry sector's significant economic contributions and that demonstrates the need for further government investment in marine transportation infrastructure.

""Ferries form an essential part of Canada's transportation systems, and ferry operators provide vital economic connections for Canadians across the country,"" said Serge Buy, CEO of CFOA. ""While we applaud the federal government's commitment of over $50 billion in infrastructure investments over the next 10 years, it's important to remember that infrastructure is more than just highways and bridges. Investments in maritime transportation are needed at the same time.""

The report reflects the key contributions that ferry operators make in driving Canada's economy and meeting the transportation needs of Canadians. In 2012, CFOA ferry operators:
Connected people and markets across the country by transporting nearly 40.7 million passengers and over 14.8 million vehicles;
Contributed to Canada's economic growth by employing more than 8,400 Canadians, helping generate more than 22,600 jobs and by maintaining operating budgets of over $1 billion;
Provided essential transportation services and vital links to Canada's remote communities by operating more than 180 ferries on over 120 routes;
Continued to provide a safe and environmentally friendly means of transportation by investing in cleaner technologies and more efficient vessels, and by contributing to a noteworthy industry safety record.
These contributions are in addition to the approximately $2.3 billion the ferry sector is already investing in fleet renewal over the next five years.

The report is available at: http://www.cfoa.ca/wp-content/uploads/2013/10/CFOA-Survey-Report.pdf